Some Springdale Sightseeing (Townsfolk and Tourist Tips)
Written by: Don Huxter
Springdale: Ten kms from the TCH on Route 390. On the outskirts of Springdale is the George Huxter Memorial Park that includes Indian River Falls, a very scenic waterfall with excellent salmon pools within the natural pristine setting that is nearest to the TCH from Port Aux Basques to St John's. The park includes camping and trailer sites with electrical hookups a dumping station, showers, office, WiFi etc.
Sights to See
1. Ice Contact Glacial Delta: This gigantic sand hill with its largely flat-topped feature and steep sides on both the coast and inland sides is a glacial ice- contact delta. It's not likely there is a more accessible, viewing example in all of North America. The appropriate age of this delta is about 14,700 calendar years old according to the marine life fossil shells found in the Indian River Valley. Aerial viewings of the sand hill suggest that only five percent of the sand hill has actually been used.
2. Indian River Trail/ Falls: This world class walking trail basically follows the river's edge from the falls to its entry into Hall's Bay at the west end of Springdale. The trail includes several entry points, stairway sections, riverside rest benches, interpretive nature signs, and many river views including the Wetlands Conservation Sanctuary near the mouth of the River.
3. Hall's Bay: There are many reasons why Springdale and Hall's Bay could be on one's "must see" list, and to let one's imagination and senses soak up some or all of its past and present 'pictures'. According to Amy Louise Peyton, 1987, in her book "River Lords- Father and Son", Hall's Bay derived its name from an encounter with Beothucks. Unfortunately, the circumstances around this encounter are unknown. Hall's Bay is also the only bay of its size on the Island with three salmon rivers within minutes' drive. These are: Indian River/Brook, West Brook and South Brook. Hall's Bay was an ideal location for a Herring Fishery, Salt Salmon Fishery and also logging and sawmills, which all started to develop in the 1900's. The bay was also an ideal spot for boat building. The Pelley family started a wooden shipbuilding business in the 1960's through the 1970's.
4. Glassy Beach: This Hall's Bay small seashore setting holds a multitude of finger picking and hand sizes pieces of polished glass whose once sharp edges have been sanded and scoured by wave and tidal action so they pose no danger to exploring hands. Not only are there multitudes of pieces and different shapes, but a variety of colors though somewhat subdued by the seashores scrubbing. At the east end of Springdale, there is signage showing the way to Glassy Beach as well as one at the beginning of the trail directing you down the trail. We ask that you do not remove any glass from this site.
5. "Springy"- Springdale's/Hall's Bay's Friendly Dragon: This four kilometer long topographic feature is along the south side of Hall's Bay directly across from Springdale- perhaps the longest animal- like hilly outline in North America. Especially in Spring and Summer when sun and shading are most appropriate one can follow fairly easily the body outline of snout, eyes, forehead, neck, back, forelimb, done from Cedar Lane in the west of Town to Seniors Lane to the east. A special viewing location is at the Marie England Lookout at the bay end of Simms's Lane. Further details are described on an Interpretive Board at that site.
6. Overseas Flight Beacon: Apparently Springdale/Hall's Bay has long been an important navigational beacon point for one of the major flyways for overseas flights from Europe to North America. Some of our residents have reported being on such flights when the planes' personnel have announced that they are passing over Springdale or Hall's Bay, Newfoundland.
7. Harvey Grant Heritage Museum (82 Main Street): This building is a former family home built in 1917-1920 and occupied by the Grant family about 50 years. The Grant house is the oldest, most unchanged and closest to the original of its kind in all of Springdale. The interior and furnishings are most indicative of some historical times preserved – its heritage value should increase with time. It has a display of artifacts from the size of a thimble to a large cooking stove indicative of those times. This two and a half story house, with front facing gable, side wing and a shed roofed veranda are typical of a sub-group of folk Victorian style. This H.C Grant Heritage Museum is listed with the Heritage Foundation of Newfoundland and Labrador's Registry of Historic places as a Municipal Heritage Building and Land because of its aesthetic, historic and cultural values.
8. Springdale Heritage Center (326 Main Street): The building was constructed in the early 1950's as a provincial court house. With its closing in 2005, the newly incorporated Springdale Heritage Society decided it would make a great center to preserve and promote out local history. The interior has been renovated to reflect the architecture of a building in the 1850's with colonial moldings, hard wood flooring and a 20 foot vaulted ceiling in the main viewing gallery. Springdale's rich history is portrayed through over 100 professionally framed black and white photographs. In addition there are family history and town activity albums, documents, collection of full newspapers and specific articles, slide show and video monitor, etc. within the building. On the center grounds are a replica of a Trappers camp, the original S.S Springdale Anchor, interpretation boards, brook, bridge and walkway. Inside as well is another special attraction, one of rural Newfoundland and Labradors largest taxidermy display of over 60 mammals and birds.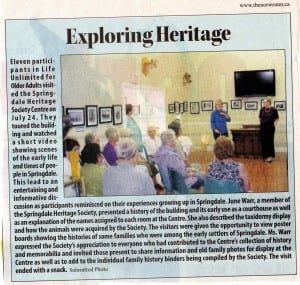 – A Nor'Wester article written after the Life's Unlimited for Older Adults had a visit at the center.